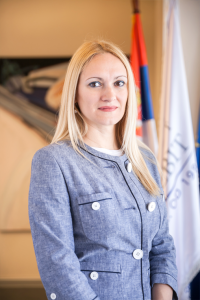 The Dean's Message
Dear students,
I would like to thank you for visiting the site of John Naisbitt University and the Graduate School of Business Studies in Belgrade. I hope that you, who are still not our students, will make the right decision and become a member of our academic team. There are at least ten reasons for that.
The University has offered right education for over 20 years. The Graduate School registered the first generation of students in the academic year of 1998 / 1999 Therefore, our programmes are thoroughly designed, accorded with European educational programmes and carefully selected. We want to make sure that the knowledge you gain presents foundation for further development. The Graduate School of Business Studies provides knowledge, development of skills and abilities at all levels of higher education – undergraduate, graduate and doctoral studies.
All our programmes are accredited – which confirms up-to-date knowledge and quality. How much importance is attached to the quality of work can be seen from the fact that we are certified by the U.S. agency AQA, and awarded ISO 9001 certification standards.
The Graduate School proudly emphasizes the fact that graduate students, over three thousand of them, are employed. All of them have confirmed their knowledge and developed respectable careers. Today they work in some of Serbian or international companies. Many students continue their studies at eminent international universities, both during undergraduate studies and after graduation. Some of them start their professional careers there as teaching assistants at faculties or professionals in different businesses.
The entire staff of the Graduate School of Business Studies is there to help you spend your youthful days in serious work and pleasant atmosphere because the years of studies are certainly the ones that are remembered forever. And we wish them to stay in your best memories.
With best regards,
Prof. Tatjana Cvetkovski, PhD
Dean
"In the computer era, strategic values will be:
CREATIVITY, KNOWLEDGE AND INFORMATION."